University of Music

University Concerts 2017/18
Friday, November 30, 2018 at 8 pm
Concert of the Song Class Prof. Donald Sulzen
Small Concert Hall of the Hochschule, Arcisstr. 12
Wednesday, January 9, 2019 at 8 pm
Lecture Recital: "Clara and Robert Schumann —
Selected Songs as seen by the letters and diaries"
(in German)
Song Class Prof. Donald Sulzen
Small Concert Hall, Gasteig
April 1 — 3, 2019 at 7 pm
Liedforum
Concerts of all song classes
Jubilees: Clara Schumann, Carl Loewe, Hans Pfitzner,
Walt Whitman etc.
Large Concert Hall of the Hochschule, Arcisstr. 12
Monday, May 13, 2019 at 8 pm
Concert of the Song Class Prof. Donald Sulzen
Small Concert Hall, Gasteig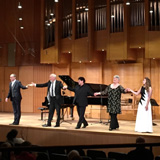 Highlight 2015
Tuesday, Dezember 1, 2015 at 7 pm
World Premier: "The Unknown Nadia Boulanger"
Faculty-Lecture recital (in German) with Mélodies of the composer, including 12 World Premiers
Christiane Iven, Soprano
Rachael Wilson, Mezzosoprano
Donald George, Tenor
Donald Sulzen, Pianist
Moderation: Dr. Matthias Junker
Large Concert Hall of the Hochschule, Arcisstr. 12